THE WYOMING FREE LIBRARY PRESENTS CECILIA GALANTE, AUTHOR OF "THE PATRON SAINT OF BUTTERFLIES" MONDAY, NOVEMBER 14, 2011 from 6:00 P.M. – 8:00 P.M.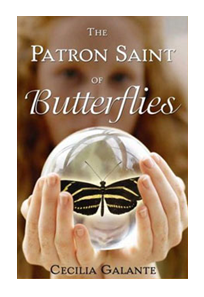 Agnes and Honey have always been best friends, but they haven't always been so different. Agnes loves being a Believer.  She knows the rules at the Mount Blessing religious commune are there to make her a better person. Honey hates Mount Blessing and the control Emmanuel, their leader, has over her life.  The only bright spot is the butterfly garden she's helping to build, and the journal of butterflies that she keeps.  When Agnes's grandmother makes an unexpected visit to the commune, she discovers a violent secret that the Believers are desperate to keep quiet.  And when Agnes's little brother is seriously injured and Emmanuel refuses to send him to a hospital, Nana Pete takes the three children and escapes the commune.  Their journey begins an exploration of faith, friendship, religion and family for the two girls, as Agnes clings to her familiar faith while Honey desperately wants a new future. 
Cecilia Galante received her MFA from Goddard College, Vermont. She is the author of five young adult novels, including The Patron Saint of Butterflies which received the NAIBA Best Book of the Year award, and was selected as one of Oprah's Best Teen Selections, and Willowood, which was recently nominated for a Keystone Reading Award. Currently at work on a children's series to be published by Random House in 2012, Galante also teaches creative writing at Wilkes University. She lives in Kingston, Pennsylvania with her husband, three children, and a very lazy cat named Julius. 
Space is limited, so please call the Wyoming Free Library
at (570) 693-1364 to reserve your spot!